Not long into a career at TS Banking Group, employees are encouraged to be the "CEO of their role." The CEO Culture is a unique way of operating and can create tremendous amounts of productivity and forward-movement if used correctly.
The idea is to create a culture of leadership and performance that is typically restricted only to senior management throughout every level of the organization. Thus, resulting in motivated employees constantly increasing their individual skillset and thereby improving the performance of the organization in every area.
There are three main points that help define this phrase and what it means to TS Banking Group.
Constant improvement. You are the expert at your particular role and understand the people and tools it will take to be efficient at your job, no matter your place in the organization. Don't wait for someone to tell you what needs done; you already know. Be the employee who makes a breakthrough on how to do something better, whether it be creating a better experience for a client or pointing out a flaw in the system – don't be afraid to offer up a solution. Your goal is to improve the organization every day.
Ownership. Treat the company as if you owned the business. Consider every project, expense and employee in 'your' business and ask yourself "is this good for my company?" Would you be doing it if you owned it? If not, let's change that.
Peer accountability. If you see something you deem not appropriate or not in line with company expectations, you should feel empowered to confront that employee in a humble and professional manner. Call it as you see it and hold each other accountable.
If every employee operates as CEO in some way, from the CEO of a team, CEO of a project to CEO of their specific role, it will lead to a lean, high-performing organization. An organization that every day, expands core efficiencies, increases productivity and continual growth.
Does this concept interest you? View our current job openings.
---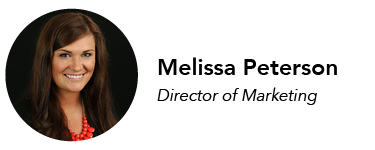 Melissa Peterson joined TS Banking Group in 2014 and serves as the Director of Marketing. Melissa works with all departments and entities within TS Banking Group to develop and implement marketing strategies. Melissa is originally from Nevada, IA and was a graduate of Nevada High School. She attended Iowa State University and earned her BFA in 2007. Her work experience includes over 10 years in photography, advertising, marketing and design. Melissa is actively involved with the West Pottawattamie Master Gardeners, serves on CHI Health Council Bluffs' - Charitable Council and is a current board member of Impact CB.