Within an organization, the majority of employees are likely working in the business, this typically includes sales force, operations and sales support. With this being said some things to think about are: Who is working on the business? Who is dedicated to making sure the non-sales strategic goals are being accomplished? And, who is dedicated to developing solutions for those nagging issues?
All employees, in some format, contribute to the non-sales strategic goals and solutions. However, they have job-related daily tasks that eat up much of their time. These employees are focused on and rewarded for working in the business and we need them to continue working in the business, generating revenue and delivering exceptional client impact. However, we also need to be mindful of not just growing the business but improving the business. Working to improve the business takes coordination and collaboration under a project management function.
A Google search of "project management" reveals pages of results including software, how-to articles, professional certifications and many definitions. However, most sources agree there is a concept stage, a planning stage, an execution stage and a closing stage.
Regardless of the results on Google, what Project Management actually means and how it truly functions is unique to your organization. The role of Project Management within a banking organization might not seem obvious or even necessary; however, the stages outlined above are likely happening. It can be as formal as needed. For example, it might be necessary to meet with all stakeholders and map out a plan that includes all stages of Project Management. However, not all tasks need this level of formality; Project Management could simply be coordinating a conversation and keeping the ball rolling.
In a small community bank with a dozen employees, communication is easier and it is common to work together. The lines separating departments are less obvious and everyone is fairly in tune with the organization's strategy. Strategic initiatives or problems needing to be solved are still being discussed, planned and implemented. Project Management is happening at this level but it looks different, less formal. The tasks are probably being completed by the organization's natural leaders. These people might be wearing multiple hats; they might be a member of the sales team but also function as a Project Manager. Project Management in smaller organizations takes less coordination and it is less obvious.
Now consider a larger organization with upwards of 100+ employees, multiple locations, very defined departmental lines and more specialized roles. Communication must be intentional because it is more difficult. Not everyone in the organization is as in tune to what is happening outside of his or her department. In this case, who is leading strategic initiatives, who is organizing cross-departmental resources, is there duplication of projects happening, who is working to solve the issues? These are examples of when Project Management within a banking organization is necessary for enhancing operational efficiencies and improved client impact across the entire enterprise.
A Project Manager owns the "improving the business" initiatives that came out of the Strategic Plan. They manage the stages of the project and serve as the control person for deadlines or cost. The Project Manager works on initiatives or solving issues that do not reside in a specific department. A Project Manager should be an objective third party that coordinates cross-departmental resources and keep the focus on the project, not in their own agenda. Lastly, they must be familiar with the organization's strategic goals, make sure those goals get accomplished, and remain "top of mind" as others may get weighted down in their daily tasks. A Project Manager works on the business. Their success lies in completing projects, solving problems and improving the business.
Regardless of the initiatives and the size of the organization, Project Management is happening. It might not be a designated person with a fancy title, but the functionality of the role must be considered. The Banking world is constantly affected by new technology, regulatory requirements and of course competition. An organization's strategic goals will reflect growing the business and improving the business, but it is important to be intentional with who is working on the non-growth goals. Project Management is a vital component to an organization's success in meeting their strategic goals and keeping pace with an ever-changing industry.
Questions? For more information on TS Banking Group's Project Management theory, contact JaLynne Schmaling, Project Management Coordinator at (712) 487-0309.
---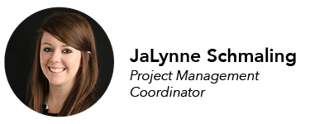 JaLynne joined TS Banking Group in June of 2015 as a Credit Administration Project Manager and recently took the role of Project Management Coordinator. In her prior role, she played a part in the start-up of TS Ag Finance as well as numerous projects within the credit department. Her new role of Project Management Coordinator will be focused on the execution of the enterprise strategic plan and facilitating cross-departmental change management.