Remember The Wizard of Oz? Almost all of us have witnessed Dorothy and friend's journey on the silver screen as they travel through Oz to meet the famous, all-knowing wizard—one who can send them home with a heart, a brain and smarts with just a snap of his magic fingers. Turns out, there's much more going on under the surface. In a bank, it can seem like some simple magic to see money move in seconds.
Of course, it's is never really that simple. Just like there's a man behind that curtain in Oz, pulling levers and pushing buttons, there are people hiding behind the scenes in your bank, moving money and making your banking work for you.
When is the last time you heard of the "bank operations" department? Hopefully, never. We strive to be an invisible-hand, working in the background to keep your experience smooth and consistent.
When you process a paper transaction in the branch, you give your slips to a banker and in a matter of a few key strokes, you are walking out of the building with your receipt and/or money in hand. Have you ever thought about what happens to those paper items after you leave?
Behind the curtain we go!
Those paper items are processed through a proof scanner that converts all items into digital images. Each branch has a team member trained to review every deposit slip, withdrawal slip and check that you give a bank teller. That team member then sends that information to the operations team for additional review. We call this collection of digital images "proof work."
Those images are imported into our data base where they are sorted into two categories: On Us Items and Transit Items. On Us Items never leave the bank because they are drawn on our bank, but Transit Items are combined and sent out into the world in the form of a Cash Letters, where they are delivered to the financial institutions they are drawn from for collection. Those other banks have their own "invisible" team members working daily to help your bank get your finances moved promptly and correctly.
What about transactions that don't involve paper in a world that strives to go paperless? With the growth of online banking, everything seems seamless and automatic. Thankfully, we keep a team pulling all the correct levers to make the experience seem so effortless. While ACH, Cash Letters and in-branch deposits are being moved around, we are looking at the numbers and payees to make sure that the dollar amounts are exact and the final destination is precise.
This extends beyond traditional banking, as well. Have you had the opportunity to use one of TS Bank's video ATMs? While our bankers use their expertise to provide you with excellent client service, our operations team works on the backend to make sure those machines function well, your transactions process correctly and you are given the best possible experience.
Have you ever had a direct deposit show up in your account a day early, but didn't have access to the funds right away? Some businesses send payroll files a day or two early to your banking institution to guarantee your funds are available immediately on the day you expect them.
Operations aims to play that invisible role, standing in the background, keeping the wheels turning. There may not be magic happening, but we work to make it feel so easy, it's practically magic! The best part is that you don't need any ruby slippers to make your banking work for you!
---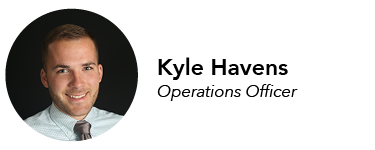 Kyle Havens is currently the Operations Officer with TS Bank. He has worked in banking for the past 7 years, holding multiple titles over that time. He has enjoyed growing personally and professionally as TS Banking Group extends its reach within the community. Originally from Atlantic, IA, Kyle has resided in Omaha, NE, for the past 9 years with his trusty Boston terrier, Tucker. This article, "Invisible Excellence" demonstrates some of the most common questions Kyle receives, as well as some lessons he has learned developing his passion and skill with banking operations.